We continue to serve our guests, as we always have, with honesty and sincerity.
Away from this restless world,
Nakashimaya is a place to feel at home and close to your heart every time you come.
We genuinely hope that when you reflect upon your time in Gujo, you will say,

"That really was a great town."
Our whole staff is looking forward to seeing you.
Nakashimaya young-okami
Our Futon and Breakfast Inn is well suited
for the town of Gujo Hachiman.
You might think upon first arrival there is nothing much here in the deep mountains.
That will change once you visit here.
Being small yet having developed a unique culture as a castle town,
Gujo Hachiman is full of delicious food and beautiful sights on every corner that you come across.
Enjoy a night out visiting some of the locals'favorite restaurants and bars.
ROOMS
Kiri-no-Ma ~ Authentic Japanese style 8 tatami-mat (13.2 m2) room ( For 2 ~ 4 guests)
with a tokonoma (alcove for art or flowers), veranda, sink, and a garden view

Ayame-no-Ma ~ Classic authentic Japanese style 8 tatami-mat (13.2 m2) room ( For 2 ~ 4 guests)
with a tokonoma (alcove for art or flowers), veranda, and a sink

Momiji-no-Ma ~ Classic authentic Japanese style 6 tatami-mat (9.9 m2) room ( For 1 ~ 2 guests)
with a tokonoma, veranda, sink, and a garden view
We have eight authentic Japanese style rooms with a tokonoma. To ensure a comfortable stay, we usually limit the number of guests at the Innt to 15 to 20. (Max. 30 guests). Please let us know the size of your party so we can place you in a room that will accommodate your needs. Feel free to ask us any questions about room allocation.
Number of rooms/ 8 all Japanese style
With bathroom/ 1 room
Bath/ private family style
Free Wi-Fi
Check-in from/ 15:30
Check-out by/ 10:00
All rooms are non-smoking
■ Each room has:
flower
hair drier
yukata set
yukata coat
face towel
bathe towel
tooth brush&paste
hand soap
hair drier
hangers
Japanese tea set
AC/heater
TV
remote control
■ In the bathrooms:
soap
shampoo
conditioner
body wash
face lotion
face milk
body milk
razor

We use M-mark series, eco-friendly additive-free items by Matsuyama.
BATHROOM
Please take turns to use the bathrooms. You can enjoy a relaxing private bath time with your family and friends as you like. Morning baths are also available.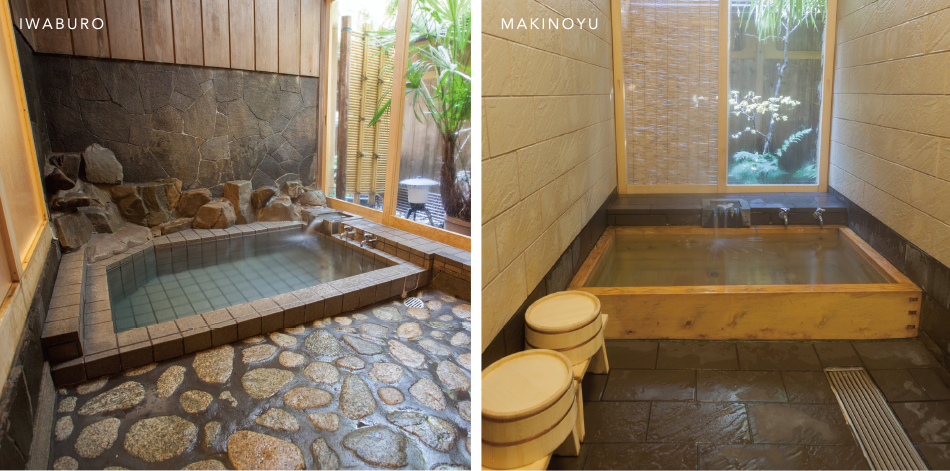 IWA-BURO
Enjoy the feeling of hot spring in this rock bath. Solidly built with Japanese cypress used for the walls and ceiling.
Choose from these these two types to suit your mood.
MAKINOYU
We had a skilled local craftsman make this bathtub, using local wood, a popular material for traditional Japanese baths.
Bath hours
Evening
17:00 - 23:00
Morning
7:00 - 9:30

BREAKFAST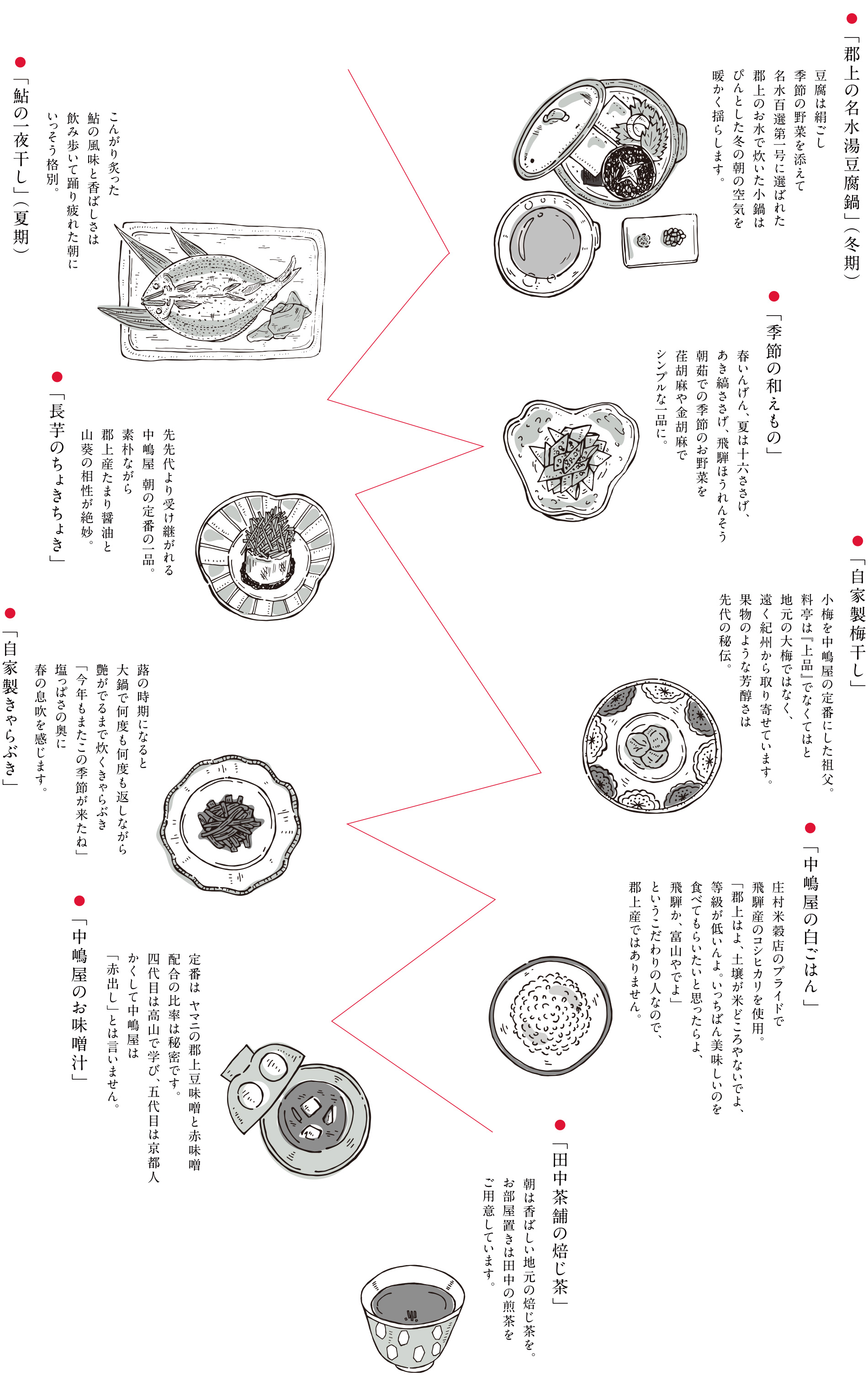 Every morning, we bring you breakfast to your own room. This hasn't changed for the last 140 years.
People often say that's rare today. Yet, we believe it's fundamental to a Japanese ryokan's hospitality.
We hope after you stay with us once you'll know what staying at a real Japanese ryokan is all about.
* Depending of the number of your party, we will arrange a private room for breakfast.

Getting around town
A great holiday includes a night out in town! Gujo has many great places you'll want to visit again and again. Gujo ayu (fish), Hida beef, Kei-chan chicken, charcoal-grilled eel, craft beer, and cafes are all available at night. All the while, above you shines the white castle in the moonlight.
We will gladly make dinner reservations for you.
Please ask us about local restaurants for their hours and accommodations.
We are happy to help you find the best match for your needs and preference.

Nakashimaya's rental cycle

Minivelo made by Giant, a full-scale road bike maker. These bikes, while light and easy enough for anyone to handle, their eight-gears provide power enough for going uphills. Why not take a ride around the town and enjoy the fresh air? (500 yen for two-hour rental)
SPEC: 20 inc/10.5 kg/ 8-gear change / Red and olive, one each First come, first served.